Adapter Obiektyw Olympus OM do Korpusów Canon EF
&DARMOWA Wysyłka w kwalifikujących się krajach
Producent:

K&F Concept

Kupuj K&F Concept adapter obiektyw olympus om do korpusów canon ef przez Internet, bezpłatną wysyłkę na cały świat i 30-dniową gwarancję zwrotu.

KF06.132

Dostępność:

W magazynie

108

https://pl.kentfaith.com/KF06.132_olympus-om-obiektyw-do-canon-eos-aparat-adapter
Cechy
• Pozwala na podłączenie obiektywu Olympus OM do korpusów Canon EF.
• Kompatybilny z korpusów Canon EF pasuje do modeli: Canon 300D, 350D, 400D, 450D, 500D, 550D/T2i, 600D/T3i, 650D/T4i, 700D/T5i, 750D/T6i, 760D/T6s, 800D/T7i, 100D, 200D, 1000D, 1100D/T3, 1200D/T5, 1300D/ T6,Canon 77D, D30, D60, 10D, 20D, 20Da, 30D, 40D, 50D, 60D 60Da, 70D, 77D, 80D, 7D, 7D Mark II, 5D, 5D Mark II, 5D Mark III, 5D Mark IV, 5Ds, 5Ds R, 6D, 6D Mark II, 1D, 1Ds, 1D X, 1D C etc.
• Wykonane z mosiądzu i aluminium. Solidna i precyzyjna konstrukcja. AF manualny, ostrzy na nieskończoności
• Podczas pracy z teleobiektywami średnich i dużych rozmiarów, aby rozłożyć ciężar zaleca się użycie statywu i pierścienia mocującego do obiektywu.
• 30 dni bez powodu Powrót, 12 miesięcy gwarancji jako?ci, 100% satysfakcji.
Frequently Bought Together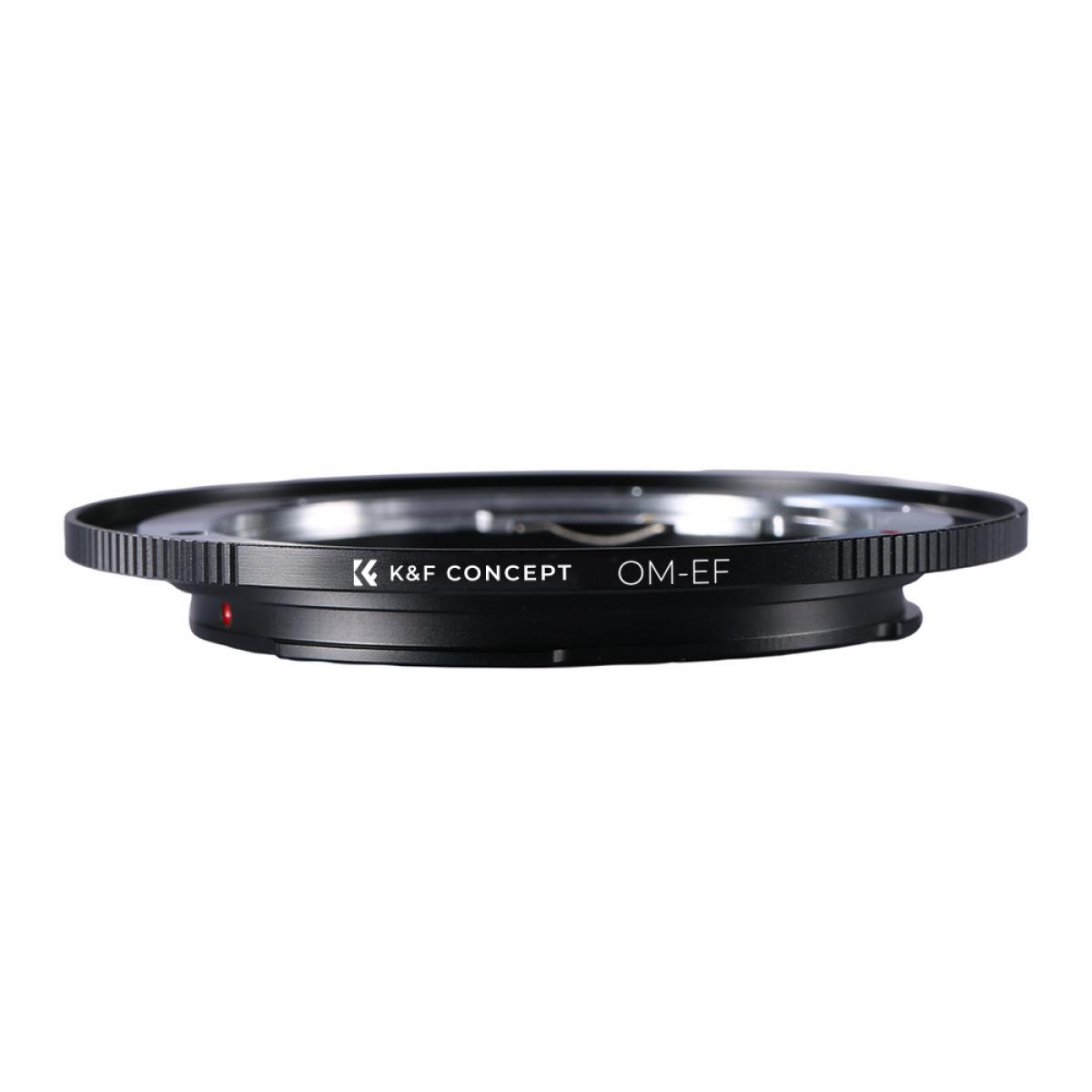 K & F Concept projektuje i produkuje pełną gamę adapterów obiektywów do obiektywów Canon, Nikon, Pentax, Olympus, Leica, Contax Yashica, Minolta, Tamron, T2, mocowanie C, Exakta, M39, M42, Pentacon itp. Stosowanych w korpusach aparatów Canon , Nikon, Sony, Fujifilm, Pentax, Micro 4 3, Leica, M42, Kino C itp.

Sturdy adapter
Was recommended this by a photographer friend and can agree, it's the best adapter ! Not at all wobbley. Great way to get more use out of some of the excellent OM lenses, that can be found quite inexpensively these days, on a modern camera.
Really nice
It fits my camera well and does the job
Brilliant!
Great product that did exactly what I wanted. Will by again.
got it half right.
There are two connections. The Olympus lens to adapter, and the adapter to the EOS camera.The connection between the Olympus Lens and the adapter is nice and tight but the connection between the adapter and the camera is not tight enough. You can feel a very small wobble when applying pressure. I tried an EOS lens and it was snug; no movement. I tried body caps and they are tight so I added a shim. A piece of paper .003" thick and now it is snug; definitely not too tight...just snug. I do believe the oly side of the adapter is an improvement over the previous brands but also believe that the other side needs fattening up a few thousandths.
Fits Like A Glove!
I bought this adaptor for an old manual focus Vivitar Series 1 90mm Macro lens. This is a superb lens for film or digital and I wanted a lens adaptor which was economical but would work smoothly and retain as many functions of my Canon cameras as possible.I tried a Fotodiox adaptor but the fit was very rough and too snug on my Canon EOS 5D Mk1. And on my Canon EOS 650 35mm film camera it was too loose and would not let the meter read properly. All I got was an "EE" total error. So I took the FOTODIOX back for a refund at the camera store.I found this adaptor by K&F. I don't have any other lens adaptors from this company but heard good reviews. It's a little more than the FOTODIOX. But at only $5 US more it fit my budget. When it arrived I first put it on the EOS 5D body. Perfect fit! Snug and smooth. And more important it UNmounted just as smoothly. Fotodiox product was difficult to remove. But the K&F came off like a Canon lens should.Then I put the Vivitar Series 1 lens on the adaptor. Also perfect! Focused to infinity and perfectly at very close Macro distances as well. Av and Manual mode metered perfectly as well, measured against my Gossen Luna Pro handheld meter.I next mounted both on my 1987 Canon EOS 650 35mm film camera, which I've had since it was new. I still shoot a lot of film for its unique look. I was surprised that the K&F adaptor went on smoothly and retained Av metering-even in Spot mode on this first EOS camera ever made! I like this adaptor so much I'm tempted to replace many of my Fotodiox lens adaptors with their brand. In any case I know that any new lens adaptors I purchase will be made by K&F
There are no faqs for this product.
| Image | Lens | Mount | Filter Size (mm) |
| --- | --- | --- | --- |
| | Access 28-70mm f/ 2.8-4.2 P-MC Macro | Olympus OM | 72 |
| | Access P-MC 35-70mm f/ 2.5-3.5 | Olympus OM | 58 |
| | Access P-MC 70-210mm f/ 3.5 (one ring) | Olympus OM | 62 |
| | Access P-MC 70-210mm f/ 3.5 (two rings) | Olympus OM | 62 |
| | Accura 135mm f/ 2.8 Supertel Tc | Olympus OM | 55 |
| | Accura Supertel TC 135mm f/ 2.8 | Olympus OM | 55 |
| | Admiral G.M.C. 135mm f/ 2.8 | Olympus OM | 55 |
| | Admiral MC Automatic 28mm f/ 2.8 | Olympus OM | 52 |
| | Albinar ADG MC 80-200mm f/ 3.9 | Olympus OM | 55 |
| | Angenieux 35-70mm f/ 2.5-3.3 | Olympus OM | 58 |
| Camera | Mount |
| --- | --- |
| Canon EOS 1000D/Rebel XS/Kiss F | Canon EF EF-S |
| Canon EOS 100D/Rebel SL1/Kiss X7 | Canon EF EF-S |
| Canon EOS 10D | Canon EF EF-S |
| Canon EOS 1100D/Rebel T3/Kiss X50 | Canon EF EF-S |
| Canon EOS 1200D/Rebel T5/Kiss X70 | Canon EF EF-S |
| Canon EOS 1300D/Rebel T6/Kiss X80 | Canon EF EF-S |
| Canon EOS 1500D/EOS 2000D/Rebel T7/Kiss X90 | Canon EF EF-S |
| Canon EOS 200D/Rebel SL2/Kiss X8 | Canon EF EF-S |
| Canon EOS 200D/Rebel SL2/Kiss X9 | Canon EF EF-S |
| Canon EOS 20D | Canon EF EF-S |
Najlepiej sprzedające się produkty